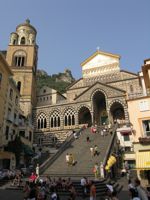 Amalfi Drive - Euro 70,00 Per person (Mon and Fri)

The Amalfi coast is one of the most fascinating in the world for its landscape, it 's an unique opportunity to impress in your heart and memory breathtaking views protected by Unesco.
Pick up directly from your hotel or indicated meeting point by coach and proceeding along the State Road 163 "Amalfitana". The Amalfi coast is part of the Campania's coast, located south of the Sorrentine Peninsula, overlooking the Gulf of Salerno it is bordered to the west by Positano and to the east by Vietri sul Mare. It is a stretch of coastline famous around the world for its natural beauty, home of major tourist sites. It takes its name from the town of Amalfi, the heart of the coast not only geographically but also historically. The Amalfi Coast is known for its diversity : each of the towns on the coast has its own charm and its traditions. During the first part of the day we will pass, with the coach, the famous and romantic Positano.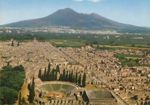 Pompeii Vesuvius - Euro 80,00 per person (Sun and Sat)
Pompeii is the most famous and visited archaeological site in the world, it was visited in 2008 by over 2,000,000 people.
Pick up directly from your hotel or indicated meeting point, where, it is through the municipalities forming part of the Sorrentine peninsula and continue to State Road 145 "Sorrento", where you can admire the Sorrentine peninsula in all its glory ! After a journey of about 30 minutes to get to Pompeii. Pompeii was founded around the eighth century BC by Osci who settled and divided it into 5 villages at the southern foot of Mount Vesuvius, not far from the river Sarno, then navigable. The number five, in Oscan, probably derives the name of the town. The first settlements date back to the Iron Age, or the IX - VII century BC C., when there was the culture of "graves"
Marina del Cantone - Amo Nerano